House and Condo Rentals
There are very few holiday homes and condos available in Banff National Park due to severe development restrictions. We have listed a few of them and also some alternatives in nearby locations. Please remember the town of Banff is located within a National Park and limitations are necessary to protect the area.
Ask our sponsors if CanadianRockies.net discounts apply.
Stoneridge Mountain Resort of Banff & Canmore
Welcome to Stoneridge Mountain Resort, nestled among the majestic Canadian Rockies in Canmore, Alberta and just 15 minutes to Banff and Banff National Park. Enjoy our luxury suites Our accommodations offer comfort, space, and the perfect oasis for your next mountain vacation or business conference. Our Canmore resort is just a few minutes from Downtown Canmore.
Click here for Stoneridge Mountain Resort
The Falcon Crest Lodge of Banff & Canmore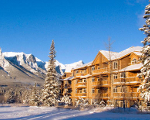 CANMORE, ALBERTA- Canada – Falconrest Lodge of Banff, Albert offers luxurious mountain accommodations located within minutes of Banff National Park. The Falcon Crest Lodge in Canmore offers the perfect setting for your next Rocky Mountain Retreat. As one of Canmore's finest hotels, Falcon Crest Lodge allows you to indulge with our hotel features and amenities including granite countertops, fluffy duvet comforters, pillow-top mattresses and unparalleled service. Just 15 minutes from Banff and close to golf, ski and the best things to do in the Canadian Rockies.
Website: Click Here!
CopperStone Resort Hotel of Canmore
Located in a unique area known as Dead Man's Flats and surrounded by the majestic Canadian Rocky Mountains is an exquisite vacation setting. Just 10 minutes from Banff, enjoy any of our one and two bedroom furnished suites. Our suites wrap around an inviting courtyard where guests can enjoy a quiet hot tub or gather around the outdoor fireplace all while taking in spectacular views.
Click here for CopperStone Resort Hotel of Canmore
Vacations Roost
Vacation home rentals in the Banff National Park area and environs.  Over 100,000 professionally-managed vacation homes and condos in 80 destinations.  Also, check out the Free Golf Special when you book now.
Website: Click Here!
Book Banff National Park Accommodations Thru Canadianrockies.net and GET $100 worth of FREE Activites/Restaurant Coupons!Promo Code: 266527
The Rimrock Resort Hotel – Banff, Alberta – Canada
Positioned Across The Street From The Upper Hot Springs Pool Complex, The Rimrock Resort Hotel In Banff Is A Distinguished Property That Overlooks Mt. Rundle. This Hotel Is Located Three Miles From Downtown Banff And Six Miles From Mt. Norquay's Ski Runs.
The Fairmont Banff Springs – Banff, Alberta – Canada
The Fairmont Banff Springs Rises Over Two Scenic River Valleys, And Is Located Less Than One Kilometer From Downtown Banff, Alberta, Canada. Sulphur Mountain Gondola Stands Two Kilometers From The Hotel.
Located Two Blocks From Downtown Banff In Alberta, Canada, The Bow View Lodge Lies Directly Beside The Bow River, Where Guests Can Rent Canoes For Serene Boat Trips. A Tree-lined Path Outside Leads To Exceptional Views Of The Surrounding Canadian Rockies.
On The Slopes Of The Canadian Rockies Overlooking Banff, Alberta, The Buffalo Mountain Lodge Is An Ideal Getaway For Couples, Outdoor Adventurers And Families Near Pristine Waterfalls, Lakes And Plenty Of Biking, Hiking And Skiing.
The Deer Lodge Is Secluded Within A National Park Near Lake Louise Village In Alberta, Canada. The Lodge Stands One Kilometer From Hiking Trails And Six Kilometers From The Lake Louise Ski Hill.
The Lake Louise Inn In Alberta, Canada, Features A Lush, Natural Setting Close To Nature Trails, Scenic Points And Lakes. Shopping Is Available At Samson Mall, Within One-half Kilometer Of The Hotel, And 30 Kilometers Away Is The Majestic Johnson Canyon.
Centrally Located In The Banff, Alberta, Canada, Ski Area Is The Banff Voyager Inn. The Hotel Is One Kilometer From The Shops And Restaurants Of Downtown Banff. This Hotel Is Positioned 14 Kilometers From Mount Norquay And 16 Kilometers From Sunshine Village.