Guest Lodges & Small Inns in Banff and Surrounding Area
Stoneridge Mountain Resort of Banff & Canmore
Welcome to Stoneridge Mountain Resort, nestled among the majestic Canadian Rockies in Canmore, Alberta and just 15 minutes to Banff and Banff National Park. Enjoy our luxury suites Our accommodations offer comfort, space, and the perfect oasis for your next mountain vacation or business conference. Our Canmore resort is just a few minutes from Downtown Canmore.
Click here for Stoneridge Mountain Resort
The Falcon Crest Lodge of Banff & Canmore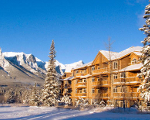 CANMORE, ALBERTA- Canada – Falconrest Lodge of Banff, Albert offers luxurious mountain accommodations located within minutes of Banff National Park. The Falcon Crest Lodge in Canmore offers the perfect setting for your next Rocky Mountain Retreat. As one of Canmore's finest hotels, Falcon Crest Lodge allows you to indulge with our hotel features and amenities including granite countertops, fluffy duvet comforters, pillow-top mattresses and unparalleled service. Just 15 minutes from Banff and close to golf, ski and the best things to do in the Canadian Rockies.
Website: Click Here!
CopperStone Resort Hotel of Canmore
Located in a unique area known as Dead Man's Flats and surrounded by the majestic Canadian Rocky Mountains is an exquisite vacation setting. Just 10 minutes from Banff, enjoy any of our one and two bedroom furnished suites. Our suites wrap around an inviting courtyard where guests can enjoy a quiet hot tub or gather around the outdoor fireplace all while taking in spectacular views.
Click here for CopperStone Resort Hotel of Canmore
A Bear and Bison – A Canadian Country Inn
Canmore – Canmore's newest country Inn in the Canmore / Banff Alberta area, with bed and breakfast style hospitality is located at the base of Lady McDonald mountain in Canmore, Alberta, and offers luxurious accommodations. Enjoy fine dining in our Canmore location.
Website: Click Here!
Lake Louise – Moraine Lake Lodge is a post-and-beam structure graced with grand windows providing generous views of the Canadian Rockies most famous lake, with its incomparable turquoise hue, and the surrounding Valley of the Ten Peaks.
Website: Click Here!