This page gives a quick overview of all of the on-line long-term accommodations in all of our destinations, please check out as many choices as you can to get a clear picture of the range of services offered in each area.
Stoneridge Mountain Resort of Banff & Canmore

Stoneridge Mountain Resort, tucked away in the towering Canadian Rocky Mountain Range in Canmore, Alberta, Canada and just a short journey to both the town of Banff and Banff National Park, has top-of-the-line suites and lodging that provide comfort, space, and the ideal attributes for a storybook Canadian vacation. Canmore/Banff Condos and Suites are only steps from the Canmore town center.
Click here for Stoneridge Mountain Resort of Banff & Canmore
The Falcon Crest Lodge of Banff & Canmore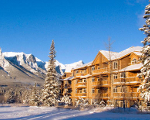 CANMORE, ALBERTA- Canada – Falconrest Lodge of Banff, Albert offers luxurious mountain accommodations located within minutes of Banff National Park. The Falcon Crest Lodge in Canmore offers the perfect setting for your next Rocky Mountain Retreat. As one of Canmore's finest hotels, Falcon Crest Lodge allows you to indulge with our hotel features and amenities including granite countertops, fluffy duvet comforters, pillow-top mattresses and unparalleled service. Just 15 minutes from Banff and close to golf, ski and the best things to do in the Canadian Rockies.
Website: Click Here!
CopperStone Resort Hotel of Canmore, Alberta, Canada
Near Dead Man's Flats in Canmore and flanked by Canada's Rocky Mountains you'll find a prime vacation spot. Merely minutes from Banff, our one-and-two bedroom suites will provide you with the upmost comfort. Our suites envelop our magnificent courtyard where guests can enjoy all the amazing accommodations and amenities that the CopperStone Resort and Hotel has to offer.
Click here for CopperStone Resort Hotel of Canmore